About Us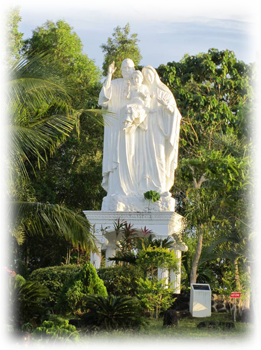 The HOLY FAMILY HILLS was built in the year 2000 foremost to glorify God Almighty. It is situated within a 52 hectare (128 acres) hilly property at Tamborong, San Lorenzo Guimaras Island. It is just a 20 minutes ride by pump boat from the port of Iloilo to Jordan wharf and another 30 minutes by jeepney or tricycle from Jordan wharf.
HOLY FAMILY HILLS is a place of spiritual renewal. It is Home to various religious structures that make it conducive to prayer and meditation, recollection and other religious activities that awaken ones soul and become a source of spiritual transformation. It is a peaceful sanctuary where one can feel the Holy presence of God, and visits can enlighten the mind, inspire the heart and deepen the faith.
The beauty inherent in the natural setting of the HOLY FAMILY HILLS such as the trees, plants and the river makes it a great respite from the buzzling city life for the nature lover who will surely enjoy the breath of fresh air while sitting on the grass and reading books or simply meditating and resting.
"MAY THE PEACE OF GOD RADIATE TO ALL WHO VISIT HERE."

-- No photos found --